Best Torch On The Market
The strongest torch on the market right now is most probably the Fenix PD36R Flashlight due to its incredible features and top-notch specifications that you require in a flashlight. Strongest seems like a big word but with its usage and properties, we can count it as one powerful torch which is suitable for almost any use. Let it be for law enforcement purposes like security, investigation, or search operations. As with a lumen count of 1600, you can expect anything from this remarkable flashlight. It will reach areas meters away with its spot-on throw technology.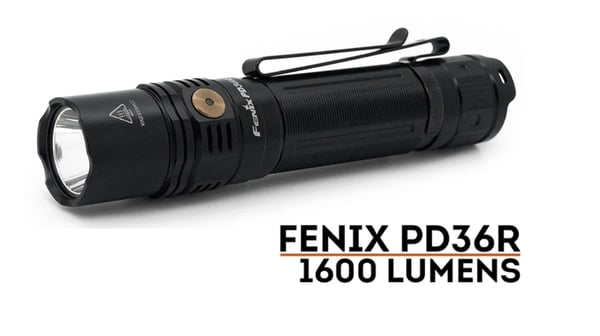 Lumen Count and Beam Distance
What makes this Fenix PD36R strong? Firstly it's the lumen count and beam distance. With an amazing lumen count which is obviously over the average that is 1600, this flashlight is quite a big source of light and can be put to use for several bigger purposes. Ones like in military and police use. Also, for camping and hiking this will be a great choice as it can easily reach up to around 928 feet which is a considerable one if you plan to go on a serious hunting trip.
Run time
Run time is another important factor when classifying a torch. You know it's a good one when it lasts long and gives a rather good experience throughout the journey. However, if a torch fails to provide a sufficient burnout time then it fails there only because the core use of a torch is outdoors mostly. In the lowest power mode, this one will give you an incredible 115 hours of runtime at a very usable 30 lumens light output which is enough for a casual user. However, you might need to charge it after a month or two if you are casually using it or for short bursts of moments.
Water resistance
A torch needs to be water-resistant too if you want to call it strong. A strong one will stick with you no matter the circumstances. You might be stuck because of a storm somewhere and are drenched fully but this flashlight will support you there too with its IP68 waterproof rating. Not only storms, but it can also withstand being underwater too if you want a short visit there. It will stay strong for up to 6.5 feet for a good 30 minutes.
Also, you might be a rough handler but Fenix PD36R will stay as it is equipped with dustproof and shock-resistant technology. One feature that we admire the most in this Fenix model is that it transforms into your tactical torch with just a button press present at the near front of the body. Otherwise use it casually and have its battery saved for better.
USB-C Faster Charging
What's most prominent in this company Fenix is that they learn and improve a lot as compared to their predecessors. And this was proved when they switched to a USB-C fast charging cord which turns out to be a better choice for these torches under all circumstances. They did this to take things to a standard level. And we hope to see more standardization shortly to make these torches much more reliable, durable, and long-lasting in their batteries.
So, without a doubt, you can go and have a Fenix PD36R if you are looking for something powerful and all in one option. Neither any battery issues nor the tackling problems are going to cross your path if you switch to the super user-friendly and reliable option of Fenix PD36R.