Best for camping
A flashlight is one of the most significant tools when it comes to camping you should have the best one with you which is Anker Rechargeable Bolder LC90 LED Flashlight that makes camping easier, less panicky, and a whole lot illuminated.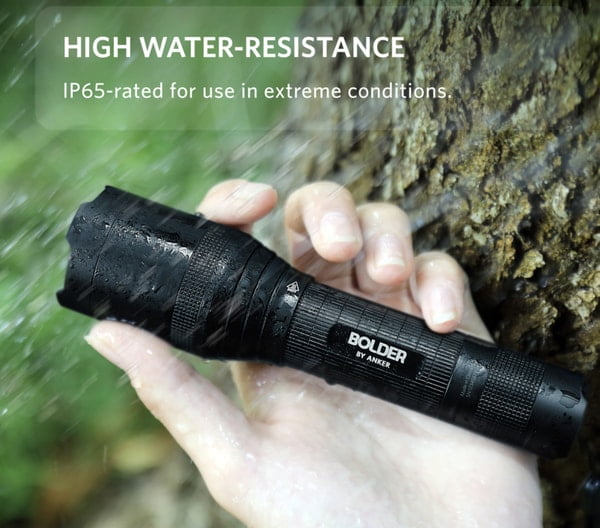 Camping means you are far away from the urban areas means lesser street lights and minimal light which is usually just the moon after evening. Camping amounts to a lot of purposes like star gazing, hunting, trekking, and some other outdoor stuff that leads you to have some reliable and durable tools at your hands. So don't risk your trips and buy the best in the market right now to escape the unexpected problems just due to a worthless flashlight. Not only this, but you will need a good flashlight for interior illumination as well as you might have a tent that lacks a light wall switch or overhead lights. In any case, you need to have yourself covered.
When making a critical decision to buy a flashlight especially for a camping trip, you need to have your priorities set first. Then you need to align your requirements with a good flashlight and its features. You will come across a huge number of flashlights but we have got something sorted for you which will work for most camping trips and is never going to disappoint you. Moreover, there are some factors that you need to consider, including your lighting needs, its portability, the material, and its durability, and most significantly battery life when considering a far-flung area from a city.
Anker Rechargeable Bolder LC90 LED Flashlight:
This remarkable flashlight is considered the best one for camping as its features and performance has earned the spot itself over the years. The CREE LED technology is particularly bright and can be set to 5 different modes according to what you need at the moment. The modes are low, medium, high, SOS, and strobe. With a powerful lumen count of 900, the beam will reach the next end of the fields from where you are camping as it has a beam distance coverage of around 1000 feet.
Features
Anker Rechargeable Bolder LC90 LED Flashlight is equipped with a 18650 rechargeable battery which further makes it reliable enough so you can use it without risking your trip for six hours straight on the brightest mode. The durable body of the torch makes it the best option for camping, hiking, and trekking. The water resistance in the flashlight adds to its reliability as you never know about the weather and what you might face the next moment. The IP65 water-resistant technology will save your flashlight and help you even amidst the storms.
In addition, another factor that matters for us to determine the best camping torch is its portability and how it can be carried around. So don't worry when it comes to portability as the anti-slip design of Anker LC90 guarantees a firm grip with its ergonomic body. As it can last for up to six straight hours on its brightest mode you must have got the hint of its long-lasting run time. This proves how this Anker bolder has a better run time than most other compared flashlights. In medium mode, the LC90 flashlight equipped with a 2-cell rechargeable battery can run for a pretty good time of 13 hours. You can get even more out of this if you use it precisely and in low mode. This makes this a good choice with a good burnout time when using it for camping along with its other competitive features.