What is the best long range flashlight?
Javelot Olight Turbo is the best long range flashlight in the market these days with it's super durable body and some remarkable features that have made a unique place of them lately when it comes to choosing flashlights. Long range flashlights means an equipment which is best for hunting, rescue, searching etc. Also, long range flashlights are the ones which provide you with facilities of tracking things that are the farthest from you. These flashlights usually are accompanied with a variety of mode with a powerful lumen count and beam range and density which could be regulated according to your requirements in any surrounding.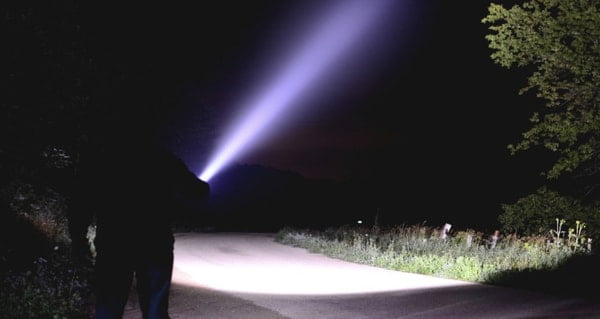 With outstanding performance and effortless operation, the Javelot Turbo is suitable for a bunch of outdoor activities that includee, camping, hiking, trekking or even search investigations. Being the best in the long range means having something quite unique and powerful and that is proved by it's ability to cover 1300m from the point youre standing. The beam coming off the Javelot Turbo has a hot spot of light that stays very tight and focused illuminating the target at it's very best. Giving a while satisfactory performance after a while but its a bit dimmer at the start. Long range flashlights are mostly not dealt as a fun tool or buying just to look cool as they might cost you that might be heavy in your pockets. Also, if you've no such use for which long range flashlights are designed then better not go and waste your hard earned money as you might have some better options on your hand too.
Javelot Olight Turbo:
If youre looking for a powerful equipment that fits your hands and pocket with an excellent performance in hunting or other outdoor activities then you won't miss this best long range flashlight as it possess all the greatest features go win a consumers heart and gives an improved experience everytime. The torch has a precisely ergonomic body with a diameter of 63mm. With an impressive capacity battery pack you can fearlessly take it out with but keeping track of the battery signs given in the torch. Also the worthwhile charging system and manageable user interface , the Javelot Turbo looks like the best long range illumination tool for almost all the outdoor activities.
Jacelot Olight Turbo comes with a hefty lumen count of 1300 that immediately impresses the buyer however in long range flashlights, lumen count is not that big of a deal. But the distance covered by the beam is all that matters and also the beam intendity that makes it worthwhile. A long throw flashlight like Javelot Olight can send a good amount of light out there within 1300m with a beam density of 422,500cd which is a whipping amount for the usual outdoor activities unless you don't want to look across the skies.
Uses Of A Long Range Flashlight:
Some specific uses which might be concerned with a substantial long range flashlight are night hunting or night camping. In areas where hunting is permissible, the huntsmen might gain some benefits using this one which will locate your prey instantly and you can even track it down even whoen it's far away from you. This tool is definitely going to knock down some Invasive species for you in lesser time.
Moreover, for night time security or search operations long range flashlights are the best preferences as they never disappoint you when it comes to farther places. And Javelot Olight fulfills the criteria fully in this regard.
With Javelot Turbo, you need not go worry about the batteries as it's loaded with two 5000mAh 21700 batteries which have a rather log burn out time and can be replaced without any complexities and it also signsls you with three different lights when running out.
Written by Madiha Hashmi